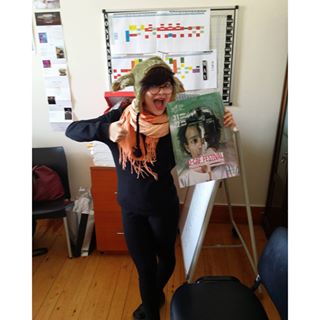 As the foreign new intern at D-CAF I have been asked to write about my experience here so far. I think to do so it's good for you to know a little bit about myself… : I was born in Paris and then left for London to go and study fine arts at Central Saint Martins. I took a year out of university because I was bored and started doing internships to make my life more interesting because I'm 20 so now is the time, right ?
Needless to say that I got what I wanted coming to Cairo to work for D-CAF. Born and raised in my european cocoon I arrived here and faced many little and bigger things that may have made my adaptation an …interesting process (to avoid the expression a complete mess because I think now I'm good I can count until five in arabic. UPDATE : tessa=9, I'm learning.).
I could talk about the food here and the time people eat at in the office (like Oh My God who's eating lunch at 16:30, 16:30 is teatime gimme biscuits and chocolate) but no one cares so I'll move on to the next point.
Well I am amazed by the huge contrast between the organisation here and the chaos you experience on a daily basis in this crazy city. I mean when you come from Paris and you arrive in this place where deciding to cross a street seems like a suicidal idea (adaptation level 4 you will be happy to know that I cross like a native now and I am still alive and well) it seems hard to imagine how the organisation of something as big as D-CAF works. Well it works pretty well, if not better.
I mean I am writing to you, people who are going to attend all of these incredible things, and you, should be aware of the amount of teamwork put behind such a great project. I am today incredibly grateful to be a part of this. D-CAF is a huge opportunity for Cairo to experience an intense shoutout of expressivity and it does feel like here we all need this.
As I am new I am gonna honestly share a feeling I am experiencing here a lot which is the difficulty to express yourself in the public sphere. Either by the way you dress, walk,  talk to people, or even the way you look at things is telling something about yourself but here it seems like we are asked to be under control out there (not necessarily in the private sphere, I dance in my office). And then you have all of this energy brought up by the art here. Having been here 3 weeks I managed to see a tiny bit of the art scene and from an art student point of view I can say that it may be messier than what I am used to (let's be honest) but it is SO MUCH more open and energetic. It feels good when you come from the kind of school who asks you to write 7000 words about your practice (I love it but…) to arrive in here where people just create, display, exchange and receive without prejudices and I think this is what D-CAF is about.
Art here isn't pretentious. Art just is, and I literally cannot wait to see how you are going to receive and embrace the flow of energy it's going to transmit. I just can't wait for it to finally happen and I hope that so are you!